A Tire Gard protects your tractor, busch hoggers, or hay baler from field hazards, saving you time and money
Your tires are exposed to all sorts of sharp objects and harsh elements. That exposure means you are vulnerable to flat tires and the headache that comes with them. When you get a flat tire it means you're spending valuable time and money to repair it.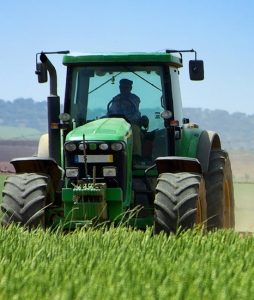 With more than 30 years in the industry, we know how much that means to you. Our economy depends on how efficiently our farmers can produce the food and agriculture we need. We want to ensure you have the ability to operate as productively as possible. Our Tire Gard helps protect your tractors, trailers, wagons, hay balers, and more, from frustrating flats.
Tire Gard protects against damage from mesquite thorns, brush, crop stubble, and any other potential object your farm equipment encounters, both on and off the job site. Some of our customers have even mentioned problems with deer antler sheds! The answer is yes, the Tire Gard will protect against those and almost any other objects that pose a threat to your tires.
With Tire Gard, you'll say goodbye to flats
We manufacture Tire Gard liners to the specifications of combine, tractor, grain and gravity cart, baler, and other pneumatic tires. Our liners will not only save you the aggravation of down time associated with tire replacement, but will also save you countless dollars throughout each season. You'll extend the life of your tires by enabling you to use them until cord failure.
---
Take a look at our Downtime Calculator to see the savings Tire Gard can offer you and your farm each year.